Buy A Car
Cars For Sale
1969 Z28 Camero


1955 Chevy


Black and Orange paint, LS1 engine, 700 R transmission 4 speed automatic, 9 inch Ford Rear End, Wildwood 4 wheel disc brakes, Shock wave technology, Black leather interior, Trunk is also black leather, Custom wheels, $100,000.00 to build, Full frame off restoration, Beautiful Car!!!! $49,500.00
1969 Z 28 Camaro
This is a perfect example of a true one off Pro Tour Camaro, Perfect black paint, top to bottom,Rotisserie style with white stripes, Houndstooth interior, 383 aluminum heads small block, 5 speed with air conditioning, 9 inch Ford with 373 positraction, Wildwood 4 wheel disc, Full 3 inch exhaust, 18 inch front tires and wheels 20 inch back tires and wheels, Beautiful Car!!!! This car speaks for itself!!!!!
$75,000.00
1955 Chevrolet (named Gypsy Rose)
Older restoration, very solid body, 8 cylinder 265 ci supercharged engine, automatic turbo 350 transmission, chrome transmission, chrome drive shaft,, frame painted to match car, custom velour interior with rose embroidery, Features ,include added B&M supercharger, Hedman exhaust headers, MSD ignition, Positraction, 4 wheel disc brakes, power steering, Sunpro gauges mounted under dash, and a Kenwood sound system, Engine rebuild, carburetor, differential, and transmission replaced.Appears to be a Georgia car with no rust issues. Has Georgia title.
Mechanically sound car. This is a very nice driver.
$29,900.00
1972 Chevy Chevelle SS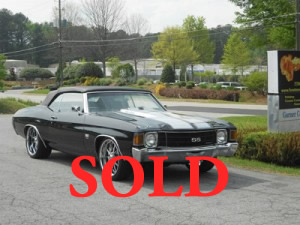 1972 Chevrolet Chevelle Convertible / 468 Big Block / 700 R Overdrive Transmission
/ 373 rear End / SS Clone Beautiful Car!!! Asking $39,500.00
1971 Chevelle SS Clone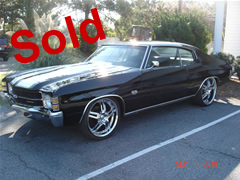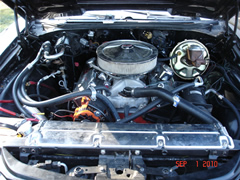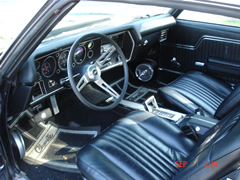 1971 Chevelle SS Clone, 454 400 hp, 700 R4, 12 Bolt, Nice Interior buckets seats, Nice Stereo, 20′s and 22′s.
Asking $25,000
---
This correct is rare corvette, frame on restoration by Best Metal LLC. New paint, saddle interior, #'s matching 327/375HP, fuel injection rebuilt to correct specs and correct date coded parts. Matching #'s 4 speed trans. all stainless repolished and bumpers rechromed. knock-off wheels, power windows, this corvette is fully optioned.
Asking $79,500.00
---
1955 Chevy Nomad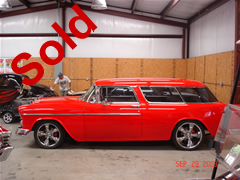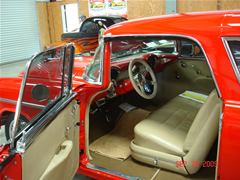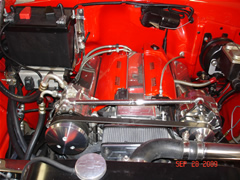 Beautiful Red(torch red), grey leather interior front to back, the body is perfect!! All trim and bumpers repolished and rechromed. Fully dressed LT1 with 700R trans. 4 wheel disc brakes, 20″ and 18″ Coys C-5 rims. For more details just call
Asking $125,000
---
This '41 Coupe has won 1st place and best of show here in Atlanta for the past 2 1/2 years. It is a remarkable street machine that grabs attention. This Willy's is 100% street legal and runs cool at 180 degrees with the air conditioning on.
- Outlaw frame and body with slick black cherry paint and custom graphics
- Fully custom bone leather interior with bucket seats and console
- .572 cubic inch/760 hp 502 GM tall deck engine with Crower crank and rods, J.E. forged pistons, comp cam and – lifters, Cantfield aluminum heads, Dart intake, Holley 1150 and MSD box with soft-touch rev control
- J.W. race transmission with reverse manual valve body and trans brake
- 3400 converter
- Mustang Two front end with custom Tubluler a-arms powder coated with aluminum coil overs
- Ford 9-inch rear end
- 4:11 Detroit lockers
- 4-link suspension
- 4-wheel disc brakes with all lines steel braided with A-N fittings
- AC and heat
- Power windows
- Tilt column steering with banjo-style wheel
- Keyless entry
- AM/FM CD player with 4 6×9 speakers
- Auto meter gauges
- Billet Halibrand wheels — front 28-7.5, rear 33-21
- Custom air cleaner (took over 90 hours to fabricate and paint to match the graphics of the car)
- Polished intake and ceramic coated stacks
- For an extra $2500 you can have a brand new Hillborn meh-injection with pump, lines and K&N filters for each stack

If you are in the market for a street machine that will win shows and blow people's minds, look no further.

Asking $85,000
---



410 cubic inch, 481hp, 385hp at rear wheels with Dynojet sheet.
400 GM small block bored .040 over, all machine work done, scat forged crank, scat forged rods, J.E forged flat top pistons (9.0 compression), Brodic aluminum heads fully polished, full roller rocker valve train, bullet custom grind roller cam, bullet roller pushrods, comp cam, custom fabricated intake with fuel injection, lower half of intake powder coated Black, upper intake polished, Roush throttle body, GM late model smooth fuel rails, late model GM injectors, GM computer hidden under passenger seat, custom sheet metal valve covers polished and powder coated, custom made polished air cleaner tubes with Z line filters, Black powder coated oil pan, powder coated GM timing cover, ARP, polished stainless engine bolts, TBI double belt drive system, TBI 140 amp Billet polished alternator, TBI Billet air conditioning compressor, vintage air under dash, chrome GM water pump, polished Lokar oil & transmission dipstick tubes, polished Lokar throttle & lach down cables and brackets, polished & chrome master cylinder with powder coated Black lines, polished 3 row aluminum radiator, custom fabricated polished over flow tank, dual electric fans sealed to radiator, chrome hood springs, Headman full length ceramic coated headers, custom X pipes 2 into 1 & 2 out Magnaflow muffler (hole exhaust system ceramic coated and polished, GM condenser in front of radiator, all polished body bolts, custom made rack & pinion.
Transmission:
GM 700R4 built to handle 500HP with 2600 stall, powder coated GM drive shaft, TCI trans cooler located under car next to transmission.
Rear end:
Moser 9 3:73 posi traction, Moser 31 spline axles, chrome slide in link bars.
Suspension & brake system:
Polished Pro-Shocks coil overs on all 4 corners, Wilwood slotted & dotted power disc brakes on all 4 corners that are chrome & polished, polished Wilwood 4 piston calipers.
Coys 18X7 Chrome front, Coys 20X8.5 Chrome rear with BFGT New Style tires, Euro style open ended lug nuts.
Everything on this car was custom made and either painted, powder coated, polished or chromed.
Asking $60,000
---
1967 Chevelle Super Sport
True 138 Supersport, Red on Black, 396/350 HP, Munic 4-speed, 12-bolt posi with 3:73 gears, front and rear sway bars, disc brakes, factory black interior with factory tach, 396 is built to 375 HP specs with ceramic headers and flowmaster exhaust. Polish torque thrust wheels. Very nice street/muscle car.
Asking $35,500
---
1969 Camaro Supersport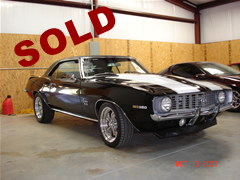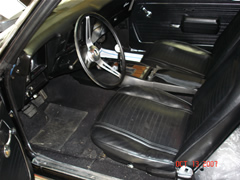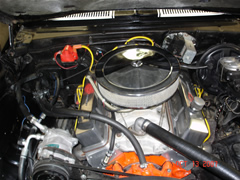 Black w/ white stripes, Black Interior, straight body/no rust, original floors, 355w/aluminum heads, tremec-5-speed trans, 12 bolt 3:73 posi, console with gauges, a/c, p/s, p/b, 17″ chrome americans, flowmaster exhaust w/x-pipe.
---
1966 Chevelle Super Sport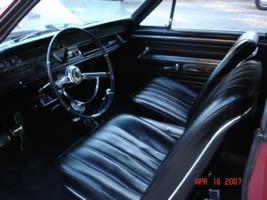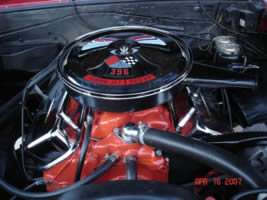 1966 Chevelle Super Sport. True 138 Super Sport, Correct red on black, NOM 396/360 hp engine, Factory 4-speed and 12-bolt with 3:73 gears, Factory sway bars ft and rr, Front disc brakes, New interior and new dash trims, Exterior trims re-polished, Wheels are 17-inch Torque Thrust, Flowmaster exhaust system with ceramic coated headers, Very nice driver that runs strong and handle tight.
---
1965 GTO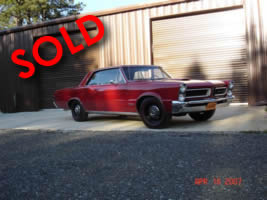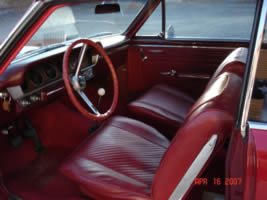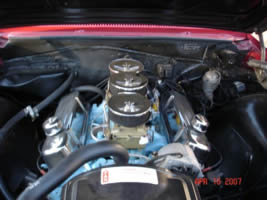 1965 Pontiac GTO, VIN 237375k113608, Factory red on red, All new interior and trims, Exterior trims and bumpers polished and rechromed, All new bushings through front to back, NOM 400 Tri-Power with 4-speed, New factory fuel lines and gas tank, New 4-row radiator, Factory tinted glass, New flow-master exhaust system with correct exhaust tips. Very nice frame-on restoration. Less than 600 miles since completed.
---
2006 Bad Ass Golf Cart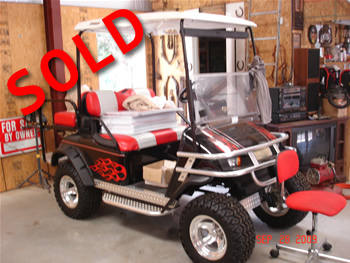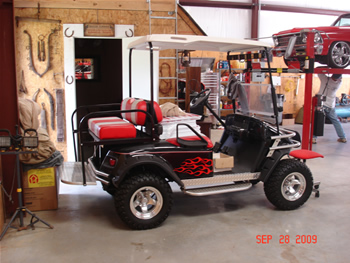 Full custom black with red flames, custom wheels, electric motor. Like new.